🚁Flysight is thrilled to announce its participation in the upcoming European Rotors event to take place in Madrid at the end of November. Building upon the success of last year's engagement, Flysight is honored to return as a conference sponsor and exhibitor, with a renewed commitment to advancing the field of avionics.
The European Helicopter Association (EHA) and the European Union Aviation Safety Agency (EASA) have teamed this year again up to create an exceptional showcase for the European VTOL branch.
European Rotors stands as a global professional networking for aviation enthusiasts, industry professionals, and innovators to convene and explore the latest breakthroughs in the aviation sector. With Flysight's presence also this year, the event is poised to deliver an even more impactful experience.
Last year's presence at European Rotors provided Flysight with a perfect venue to showcase its cutting-edge avionics OPENSIGHT solutions and establish connections with key industry players. Given the overwhelmingly positive response received during the event, the decision to once again sponsor the conference and exhibit at booth #703 this year was a natural progression.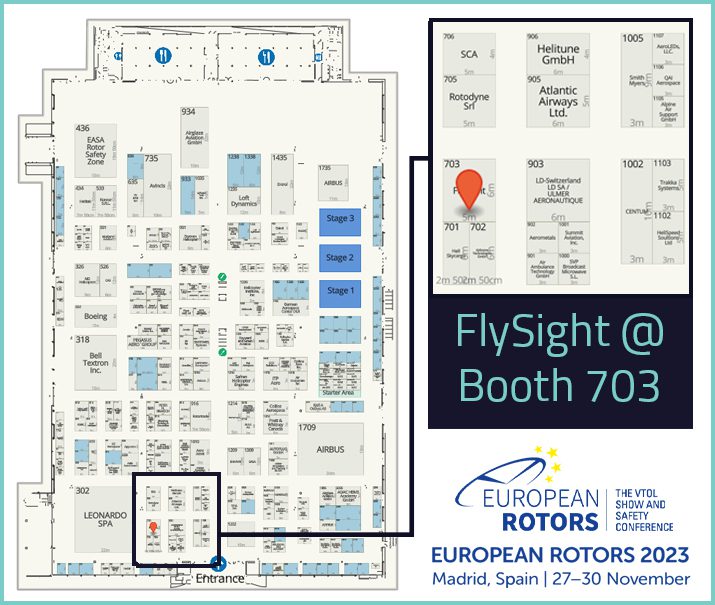 With a thriving community of avionics experts and enthusiasts, European Rotors offers on time again an invaluable opportunity for Flysight to engage in meaningful interactions, share insights, and collaborate on the future of aviation technology. By participating as a conference sponsor and exhibitor, Flysight aims to foster dynamic discussions, facilitate knowledge exchange, and further its mission of maximise the situation awareness of the airborne operator, empowering OPENSIGHT capabilities.
At EUROPEAN ROTORS we meet innovations and technologies of the evolution of vertical flight, share possible solutions and proposals with the Rotorcraft community- said FlySight CEO Andrea Masini in the event guide-. Our OPENSIGHT is proving to be the flywheel for the success of new mission consoles, thanks to its best-in-class features for a real cognitive enhancement. After our first presence in 2022 we have increased our collaborations, expanded our perspectives and ideas for the future, concretizing success stories, which we will bring in Madrid. 
The company warmly invites all attendees to visit their booth, where they will have the unique opportunity to experience firsthand Flysight's state-of-the-art OPENSIGHT solutions, engage in insightful dialogues with the Flysight team, or also just to chat and drink a coffee and take a look into the latest updates in OPENSIGHT skills and integrations.
▶ Click and peek some frames of euroepan rotors 2022 edition and
👀watch again our in-depth with FlySight Head of engineering Mattia Carpin at #europeanrotors22 on FlySight Vimeo channel